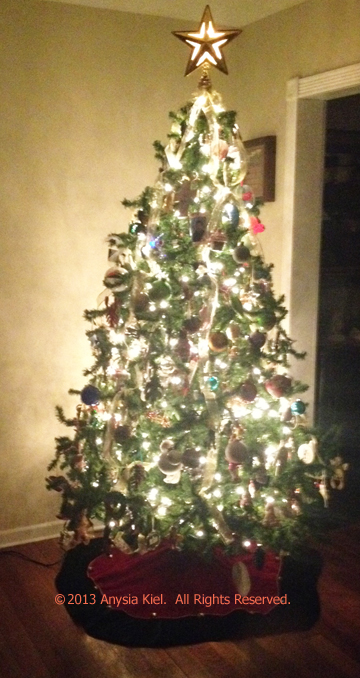 As the holidays approach, most of us are running around buying gifts for friends and family but we don't always stop and remember the gifts we already have in our lives. The greatest gifts are the ones we cannot buy. The holiday season is a time for us to think of ways we can acknowledge and enhance the existing gifts in our lives.
At the age of seven, I asked Santa for a magic wand. I figured I'd cut to chase and keep his job simple and I thought I had outwitted him, as well. Rather than asking for a long list of things that I might not get, I could use magic wand to conjure up anything my heart desired. On Christmas morning that year, I unwrapped a magic wand but when I waved it, nothing happened. It was just a plastic toy. I was so disappointed that Santa had misunderstood my request and my dream of magically manifesting everything I wanted dissipated like a thin mist. When I grew older, I realized that I didn't need a magic wand to manifest everything I wanted in life. That wisdom is a gift we all have.
As adults, we can often get caught up in the materialism of the holidays. Our minds are constantly inundated from the inception of Thanksgiving onward with sales and advertisements everyone time we watch a television, read a newspaper, or walk into a store. We're constantly reminded of all the things we think we want and need and it becomes engrained in our heads, until we visit the stores like programmed robots and buy everything we see.
If we take a step back and look at our lives, we will find that many of us already have everything we need. Many of us have already received the greatest gifts in our lives. These gifts develop and grow, when we share them with others.We may be blessed with gift of unconditional love. We may experience this gift from a partner, spouse, family member, or pet. When we know we're loved unconditionally, we're deeply grounded and connected to that source of love.
Some of us may enjoy the gift of perfect health. This gift frees us of all physical, mental, and emotional ailments and limitations. With this gift, we're able to achieve anything we choose in life.
Family is a wonderful gift that unites us to our loved ones. At times, families may challenge us with their varied personalities and experiences melding into one. Yet, they're a source of connection and the core foundation for us. Just like leaves on a plant, we're rooted in our connection to our families.We're united to our family members on Earth and those is spirit for the experiences they share and the lessons they teach us.
The gift of friendship carries a bond that can sometimes be stronger than family. We often hear the expression, "You can't choose your family members but you can choose your friends." Our friends make us smile, give us support when we need it, and are there for us though both good and challenging times. Those who have mastered the art of friendship understand the nature of this gift; before you can have many friends, you need to first learn to be a good friend to others.
Many of us enjoy the gifts of our talents. Our talents are unique skills and individualized assets that add enhance our lives and reinforce our purposes on Earth. We may be talented in the arts, sciences, or athletic abilities just to name a few of the categories. Like the other gifts mentioned, the gifts of our talents are enhanced when we share them with others.
The gift of Divine connection is a magnificent present. The Divine connection bestows a variety of sub-gifts in its wake. It yields joy, love, guidance, compassion, and peace. When we're connected to the Divine source, our lives are aligned and balanced.
We are all gifted in different ways and the holidays give us a chance to focus on our special gifts.This holiday season, take some time and ponder the gifts you already have in your lives. Think of ways you can develop those existing gifts and how you can share them with others. May your holidays be filled with joy, love, and peace.
Bright blessings,
Anysia Kiel